Get a Free Copy of Addition by Adoption by @KevinHendricks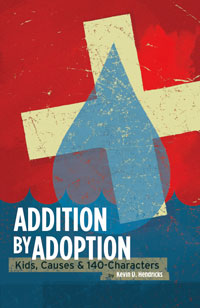 Today I'm reviewing, discussing, and giving away a copy of Addition by Adoption by Kevin Hendricks.  Keep reading to learn how you can win a free copy.
In Addition by Adoption: Kids, Causes & 140 Characters, Kevin Hendricks shares the story of the adoption of his son, Milo, from Ethiopia.  The story is interwoven with 140 character Twitter posts (aka "tweets") that give a glimpse into Kevin's life as a work-at-home dad preparing for and then adjusting to the addition of Milo to the Hendricks household.
If you're one who is still wondering, "What's the point of Twitter?" or you have people asking you that question, Addition by Adoption goes a long way… not to explaining the answer but to exemplifying an answer.
Most of the content of the book is made up of Kevin's tweets over a 2 year period.  It's filled with funny little one-line stories anyone whose every parented a 3 year old can relate to.  It's got emotional tweets about adoption & the conditions in Ethiopia.  Some of the tweets also tell the stories of how Kevin raised money to help the homeless and for clean water using Twitter.
Sampling of Tweets
Here's a sampling of some of tweets included in Addition by Adoption…
Up to #14 on unofficial adoption waiting list. Excited, but trying not to get too excited. Phone rang today and made me wonder, is this it? No.
October 9, 2008

Me: "OK, Lexi, five more minutes and it's going to be naptime." Lexi: "No! Two more minutes!" Me: "Er… OK."
January 22, 2009

Potty training continues in the Hendricks household. Today's lesson: The boy who cried wolf retold as the girl who cried poop.
February 4, 2009

We met our wide-eyed little boy today. He's very tiny and loves to watch everything going on. Quiet and cute. Made up for bewildering arrival.
March 20, 2009

I want to celebrate my 30th birthday with clean water for 30 people. If we do it I'll shave my head: Bald Birthday Benefit.
May 15, 2009

We hit $600 so on June 13 I'm bald, but who says we can't hit $5,000? Insane? Yes. So what? Now we're up to $640.
May 22, 2009

Lexi, pushing Milo on the riding toy: "You want to go for a ride, Milo? Hold on, I have to get all the crap out of the way."
October 9, 2009
In addition to being funny & interesting, I recommend Addition by Adoption for three reasons.
It puts a spotlight on the importance of adoption.
It demonstrates the power of social media.  The book is derived from tweets & is being promoted exclusively through blogs and social media.
Kevin is giving a portion of the proceeds from every book purchased to charity:water, a wonderful non-profit that brings clean drinking water to people in developing nations. Kevin's goal is to raise $5,000.
Discussion
Which of these 3 aspects of the story resonates most with you?  The importance of adoption?  The power of social media to help others?  Or bringing clean drinking water to developing nations?  Why?
Get a Free Book
If you'd like a free copy of Addition by Adoption, all you have to do is
Retweet this post or share it on Facebook, and
Post a meaningful comment to this post that contributes to the conversation (include your Facebook or Twitter usename in your comment so I can connect your comment to your share/tweet).
One person will be randomly selected the afternoon of Tuesday 4/20 to receive a free copy.
Pre-Order Now
Right now you can pre-order Addition by Adoption.  If you do…
you'll save a buck
twice as much money will go to charity:water
you'll get the book a couple of weeks early
Kevin & his daughter, Lexi, will sign your copy.
But you must pre-order by Tuesday April 20.