2014 Global Leadership Summit Session 2b: Jeffrey Immelt #GLS14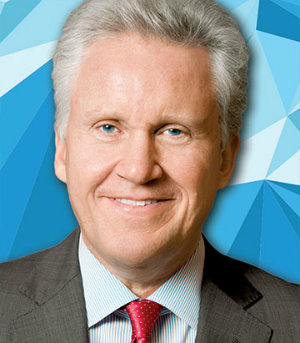 .
President and CEO, GE
SESSION 2: Positioning Your Organization for the Future
Chairman of General Electric, a post he has held since September 7, 2001
Named one of the "World's Best CEOs" three times by Barrons
Under his leadership, GE has been named "America's Most Admired Company" in polls conducted byBarrons and the Financial Times
Served as Chair of President Obama's Council on Jobs and Competitiveness
Immelt holds a B.S. in Applied Mathematics from Dartmouth College and an MBA from Harvard University
Session Notes
Hierarchy doesn't mean much… we all work together as a team.
There has never been a moment where any job in the company has been beneath me.
When did you know you were a gifted leader?

Great parents… opportunities to lead early through athletics
Parents taught me not to be afraid

Did you have a plan when you first joined to GE to differentiate yourself?

It was always about the work and not about the career
Your piers ultimately decide how far you go. If you're more of a giver than a taker, your piers see that… horizontal strength in the organization.

Jack Welch once assigned him to turnaround a failing appliance division…

Be around a crisis early in your career.
We can't tell anything about your leadership when times are good but we see a lot when times are tough.
Setting high standards is important

Became CEO on Friday Sept 7, 2001

End of an era of stability
We live in a volatile time. People aren't going to be given the luxury to go back in time. The best leaders see the world as it is and go forward.
The best leaders don't long for the past but see the world as it is and go forward.

Why do you invest so much in the GE leadership training center?

We spend $1b/yr on leadership development
Some aspects of leadership never change, but many aspects do change…
Continuously learning from other leaders and companies.
GE leadership training solidifies the company culture

How do you feel when someone you've trained leaves?

It's deeply personal.
I don't want people to come to work at GE because they're afraid they can't get another job but because they love what they do and want to make a difference.
We want people to live their dreams even if it's working somewhere else.

What are the X-factors when you look for leaders.

The willingness to stand apart, to buck the system
We want people who will challenge authority & status quo
Excuses turn everyone off
We don't expect people to be perfect but to learn from mistakes and get better.
Excuses indicate you're not willing to learn from mistakes.

Hardest person you ever had to fire

Person who was not connecting with his team.

Where did the value of diversity originate? How do you foster diversity?

If you believe in talent and meritocracy, you must believe in diversity.
The best people and ideas must get ahead.
Old white guys don't have all the great ideas.

Why did you decide to help President Obama with job creation?

The 24 of us who did this because we wanted to help (not for political reasons)
Almost 70% of our business outside the U.S. but we're proud to be an American company.

Explain simplification

We live in a complicated world, and we're all looking for better ways to do things.
4 ideas…

Less management – fewer meetings, people closer to the markets they serve
Become hyper competitive
Start today – test & learn
Use IT to network the company – empower people with information

Works 80 hours a week 7 only takes 12 days off a year

I love what I do
We can't guarantee outcomes, but we can guarantee processes.
We're going to work hard on your behalf and play to win.

What would you hope to experience in a church

In big leadership jobs, you're on all the time…
Leadership is an intense journey into yourself… resiliancy
The ability to sit for an hour and be at peace… listen to someone else talk.