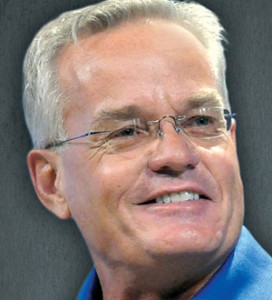 Founder and Senior Pastor, Willow Creek Community Church
Founded The Global Leadership Summit, now in 530+ cities and 90 countries
Senior Pastor of Willow Creek Community Church, a pioneer in contemporary church strategy and one of America's largest churches with more than 24,000 weekly attendees
Committed to developing and mentoring leaders worldwide, including those in some of the most difficult, overlooked and under-resourced countries
Best-selling author of more than 20 books including Courageous Leadership and Axiom: Powerful Leadership Proverbs
Session Notes
Joshua 1:9 Be strong and courageous…
Leadership demands a non-stop dose of fortitude
Ending apartheid is a cause I'm fully prepared to die for. -Nelson Mandela
1) The courage to define a vision

Vision is a picture of the future that creates passion in people.
God made you a leader to move people from here to there.
Every significant vision that's birthed in you is going to put your courage to the test.
Told the story of Willow Creek building a care center.
Why any senior pastor would keep capable, fired-up women from full deployment in the church is beyond me.
Do we blame the problems of the world on God or on gutless leaders who lacked courage and aborted their mission?
Don't die with a hidden vision shriveling up inside of you.

2) Courage to define reality

Sometimes a leader must declare a "code red." (Things are declining)
Sometimes a leader must light a fire, declare the status quo is not acceptable and extremely dangerous.  (Plateaued)
Your whole team knows the reality of your current situation. They're waiting for you to work up the courage to acknowledge it and start leading them out of it.

3) Courage to build a healthy culture

Nothing has required more courage at Willow Creek than moving our team to a healthier culture.
First step – bringing in an outside firm to measure our culture. Put it off a year due to fear.
Used "Best Christian Workplace" assessment
Initial assessment put them just above "toxic." Put an action plan into place.
What action steps did they take?
People join organizations. They leave managers. 
Staff are now evaluated twice a year based on not just what they accomplish but how they do it.
A staff culture will only ever be as healthy as the organization's leader wants it to be.
Delegating improving culture to HR is the kiss of death.
We are no longer going to pay people to bruise and bust our culture.
You will not believe how much more productive your people will be in a healthy culture is compared with a toxic culture.
Missed some really good Pew research stats cited about employee engagement.

4) Courage to establish and enforce values

The more I utilize social media the hungrier I get for true community. (uh, oh Bill. I disagree – virtual community is real community.)
Social media provides the illusion of true community.
Told story of how no one befriended a grieving friend in a church service.
Commentary – doesn't Bill's story show lack of sincere, loving relationships is just as much a problem in "real life" and is not a social media problem?
We are not going to allow people to leave services at Willow unwelcome or unnoticed.
Made this a value at Willow. Created a "section strategy" to raise the level of community, care, and intentional engagement at Willow.
It takes courage to go from vision to saying this is a value, this is who we are from this point forward.

The courage for a leader to finish strong

Some of the most rewarding experiences in a leader's marathon are reserved for quite late in the race.
At 22 years old before starting Willow… Lawyer: Why are you starting this church? Hybels: To change people's lives. Lawyer: People don't change. Hybels: I'm betting my whole life you're wrong.
You have to step out in faith even when you are vibrating in fear.