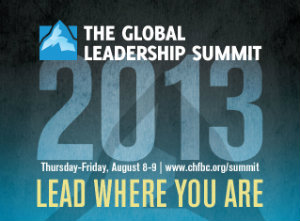 Thursday and Friday (Aug 8-9) the Willow Creek Association is hosting its annual Global Leadership Summit.
I'll be participating at the Van Dyke United Methodist Chursch, Tampa satellite site with a group from my church. I'll be blogging my notes live here on Live Intentionally (as I have the previous 6 Summits) and tweeting quotes and highlights (as I have the previous 4) as well.
As usual this year's Summit features a great mix of veteran and emerging leaders from churches, non-profits, government and business:
Bill Hybels
Gen. Colin Powell
Dr. Brene Brown
Mark Burnett
Vijay Govindarajan
Patrick Lencioni
Liz Wiseman
Oscar Muriu
Dr. Henry Cloud
Chris Brown
Joseph Grenny
Bob Goff
Andy Stanley
Here's a 3 minute video intro from Bill Hybels posted to the Summit site last week:
I'm looking froward to learning and being inspired. I'm looking forward to doing it with the team from my church. And I'm looking forward to sharing  and discussing as much as I possibly can here.
Are you participating in this year's Global Leadership Summit?  If so, where will you be and what speakers are you most looking forward to?