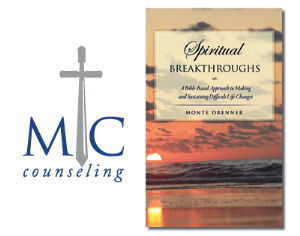 This is a guest post by Monte Drenner, LMHC, CAP, of More Than Conquerors Counseling in Orlando, FL
The Dream
My big dream is to help others realize their dreams of becoming the spouse, parent, leader, or Christian they want to be.  I accomplish this goal with God's Word by helping other Christians know, understand and internalize that their lives can be radically transformed by the power of God.  He does not just want us to go from lost to saved but from found to fully-formed.
The Transformation
It surprises many Christians that there is much more in the New Testemant about transformation than there is salvation.  Once we are saved, God has a desire to see His children not only grow and mature but also be transformed into the likeness of His Son (2 Cor 3:17-18).
The Greek word translated "transformed" in most English Bibles is "metamorphisis."  This is the same term biologists use to explain the process of a catapillar's transformation into a butterfly.  What once crawled can now fly.  God's desire for His children is not just salvation but includes this same type of amazing transformation as well.
Let me make this concept of metamorphosis more practical.  It means that as Christians our minds can be transformed (Rom 12:2), and we can learn to think like Jesus.  Therefore, Christians no longer need to be controlled by thought patterns like worry, doubt, or worldly intrusive thoughts that can bombard them daily.
Managing Difficult Emotions
As Christians, we can learn to manage difficult emotions like anger, depression and anxiety and work through challenging emotions like guilt and shame.  Christians can also be victorious over any type of addiction and other compulsive behaviors that control them.
Too many Christians suffer from poor self-esteem because they allow themselves to be defined by a negative label rather than by God.  Many Christians allow themselves to be defined by their past, an addiction, an unhealthy person or an event.
The end result for these individuals is a life of insecurity and uncertainty.  God began a good work in us and wants to see it to completion (Phil 1:6).  He wants us to become mature and attain the whole measure of the fullness of Christ (Eph 4:13).  Simply stated, God wants us as Christians to see and experience that we can overcome the world as Jesus did (I John 4:4).
Where to Draw Inspiration
The Bible provides many examples of radically changed lives to inspire us for our own transformation.
The Apostle Peter failed Jesus multiple times throughout His ministry but especially in the last several hours before the Lord's death.  He denied Jesus and even deserted Him.  Peter was not at the cross or the resurrection.  Yet after the resurrection, he became a prominent leader in the early church.  Peter gives hope to any Christian who suffers from moral failure.
The Apostle John had the nickname "Son of Thunder."  He once wanted to call down fire from Heaven on the Samartians who would not believe in Jesus (Luke 9), yet he eventually became known as the Apostle of Love.  His life gives hope to anyone struggling with difficultly overcoming character issues and managing emotions.
Saul, who later became Paul, was transformed from a church persecutor to a church planter.  His life gives hope to anyone who wants to change from living a judgmental or self-righteous life.  God's power changed all of their lives in amazing ways and will transform others in a similar manner if we allow Him.
What's Holding You Back?
In my experience working with others who follow Christ, many desire to make these types of difficult changes but are often afraid.  They therefore fail to bring glory to God and experience the full life Jesus promised (Jn 10:10).  Others desire transformation but lack understanding of how to change and therefore remain the same.  The end result is that millions of those who claim to follow Christ are not growing, maturing or transforming as they could.  Countless souls are therefore frustrated spiritually and do not experience the joy that Christ states His followers can experience.
Letting God Lead the Way
In order to make my big dream come true, I pray daily for my own journey of transformation.  I'm very excited about how God has changed my life and how He continues to do so.
I also pray daily to be used as an instrument for God as I counsel others about how they, too, can be transformed more into the likeness of Christ.  The changes I've seen people make by the power of God increases my faith tremendously and inspires me to continue to pursue this big dream.  I also write books, articles, blogs and develop workshops to help others on their journey of transformation.
You can find more information about how to be transformed more into the likeness of Christ in my book, Spiritual Breakthroughs: A Bible-Based Approach to Making and Sustaining Difficult Life Changes, and more information about mental health counseling on my MTC Counseling website at www.mtccounseling.com.