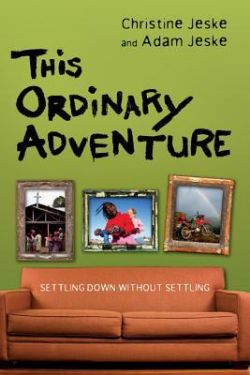 This week we're reviewing, discussing, and giving away a copy of the new book This Ordinary Adventure: Settling Down Without Settling by Christine and Adam Jeske. Keep reading to learn how you can win a copy.
Christine and Adam Jeske spent the first 11 years of their marriage living extraordinary adventures serving God and others in Nicaragua, China and South Africa. Upon returning to the U.S. they feared getting ground up in the gears of the dominant middle-class, American life style. This Ordinary Adventure interweaves stories of their adventures around the globe with stories of their struggle to find meaning and adventure in Wisconsin.
Personal Thoughts
I'm asked to review more books than I can possibly read every year, but when came across Adam's blog and saw the description of This Ordinary Adventure, the topic so resonated with me that I requested a copy.
While not to the degree of Christine and Adam, I've had moments here and there where I lived on the edge by faith – driving around the state of Florida leading youth ministry events, a week building a church in Costa Rica, quitting my safe job to start company that helps churches and Christian ministries with their websites, serving in an orphanage in Kenya. But recently I feel less like a world-changer and more like "the establishment" – a married father of 3, leading a 15 year old company, serving as a church elder. Often I feel far more like I'm meeting obligations than living adventures.
I was hoping This Ordinary Adventure would tell me how to resolve the tension between my desire to live amazing days in a culture that values routine, efficiency, caution and more stuff. I was hoping Christine and Adam would provide me with some radical solutions I had never thought of before. Maybe they had joined an urban commune or moved into college dorm as residence hall directors or found jobs they could do remotely with satellite Internet connections as they spent 9 months of the year living in remote villages around the globe.
But no.
This Ordinary Adventure doesn't resolve the tension. Instead it looks at it from different angles, pokes at it, embraces it, and wrestles with it. It shows where God is present in the ordinary (or what we perceive as ordinary).
Christine and Adam remind us that no matter where you live or what your circumstances, there are opportunities for meaningful adventures and amazing days if we have the right attitude, an ear toward God, a little creativity and some courage.
They don't claim to have all the answers, but they share their challenges and the insight gain from them in the book and invite us to join on The Ordinary Adventure blog as they continue to wrestle with these issues.
Win a Copy of This Ordinary Adventure
I'm giving away a copy of This Ordinary Adventure to one lucky winner. To be eligible, here's what you have to do.
Do something amazing (fun, weird, faith-filled, good…) It doesn't matter how big or small it is. (BTW, here's what happened when Adam asked his friends to do something amazing)
Tweet or share this post on Facebook
Post a comment here telling us about the amazing thing you did. If you did something recently and want to share that instead, that's cool too. (Please also mention the Twitter or FB username you used to share the post in the comment).
I'll select one winner around 4 PM ET Friday, Oct. 5.
But don't wait to see if you can get a free copy. Buy This Ordinary Adventure now. If you do and you win the giveaway copy, you'll either have an extra copy to give away to a friend or I'll reimburse you for your purchase.