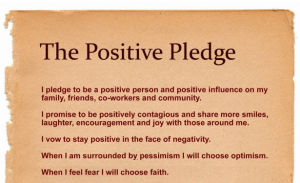 "Being Positive not only makes you better, it makes everyone around you better."
That's the premise behind The Positive Pledge, created by author and speaker Jon Gordon.
The Positive Pledge includes 16 specifics including:
I pledge to be a positive person and positive influence on my family, friends, co-workers and community.
I promise to be positively contagious and share more smiles, laughter, encouragement and join with those around me.
When I feel fear I will choose faith.
I believe I'm here for a reason and my purpose is greater than my challenges.
For all 16 points, to download a printable copy and to sign The Positive Pledge go to thepositivepledge.com
Do you believe being a positive person is a choice?  Are you committed to being a positive person?  Which of the 16 points resonates most with you?