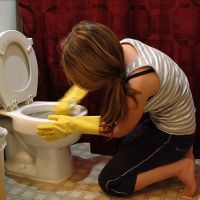 Every organization has positions that are mundane, difficult, or even downright discussing – picking up trash, stuffing envelopes, changing diapers in the church nursery, dealing with irate customers. If you're a leader, it's your responsibility to recruit people for these positions and keep them motivated and doing their job well.
That can be a challenging job. In this excellent video Patrick Dixon takes on perhaps the most unpopular job there is – cleaning toilets – and explains how to motivate someone to do it well.
The keys to motivating people to do unpopular jobs?
Help them see their role as critical to the mission of the organization.
Help them see how important what they do is to the people you serve.
Demonstrate that you, their leader, highly value and appreciate the work they do.
Provide opportunities for development and advancement.
It's easy for those doing unpopular jobs to get tired and frustrated by their work and lose sight of the bigger picture. If you're a leader and you want to prevent poor moral and high turnover, it's your job to frequently remind the people on your team that they matter and what they do matters.
What unpopular jobs do you oversee? How do you motivate people to do them?