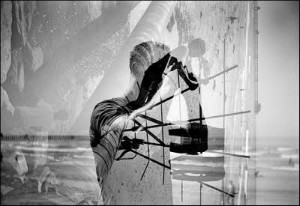 Dan Foster has a thought-provoking post on Michael Haytt's blog this morning in which he asks, "Do you see into people or through them?"
What's the difference? Dan writes
When you see into people, you are not looking for what you are going to get out of that interaction, but, instead, how you can bless the person you are engaging… To be a leader that sees into people is no easy task. It requires courage, self-sacrifice, and the desire to engage people no matter where they are in life.
As I reflect on the post, I think most of us do both. Sometimes we see through people and sometimes we see into people. But if I'm really honest with myself, I have to admit I do more seeing through people, a lot more than I'd like.
I can also see patterns in my life, circumstances where I'm more likely to see through people and other circumstances where I'm more likely to see into people. Three things that put me in a better position to see into people are:
1) Rest. As an introvert, the more tired I am the less I want to engage with people. So, for me getting enough rest is key to having the energy and desire to engage with others where they are at.
2) Margin. The more busy and stressed I am, the more focused I become on getting things done and the more other people and their problems can feel like a barrier to that. When I know I have some margin in my schedule, it's much easier to listen and fully engage with people.
3) Prayer. When I'm not in tune with God, I have a tendency to focus on my own agenda. When I pray, God gives me perspective. I'm reminded that I'm very blessed & am here to be a blessing to others. I remember people matter more than things. I'm reminded that how I do things matters as much as what I do. I remember life's a journey, the detours and interruptions along the way are as important as the destination.
Of course, when I don't have enough rest, margin, prayer that's no excuse for seeing through people, but it's important for each of us to put ourselves in the position that will best help us to see into people.
How about you? Do you tend to see into people or through them? What patters do you recognize in your own life that can help put you in a better position to see into people?