Thank You Veterans for Living Intentionally!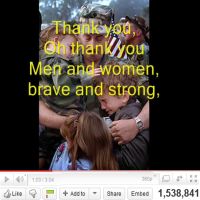 The men and women who serve in our armed forces are great examples of people who are living intentionally.  They are not drifting through life aimlessly.  They chose to live for a cause greater than themselves – freedom.
They have made tremendous sacrifices.  They have endured the grueling training of boot camp, the separation from loved ones while deployed overseas, horrific injuries, and even death.
I often say great people are just average people who repeatedly attempt great things.  No one exemplifies that more than our veterans.
Thank you.