Author @EdCyzewski Answers Your Questions About Writing, Publishing, and Marketing a Book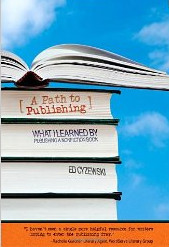 Earlier this week I posted my review of A Path to Publishing by Ed Cyzewski (affiliate link) and invited you all to post your advice or questions about writing, publishing, and marketing a book. Yesterday, I interviewed Ed via Gmail Chat and asked him many of your questions plus some of my own.
Here's a transcript of that chat.
Paul: Hi Ed, thanks for taking the time to talk with me about your book A Path to Publishing and answer some of the questions readers of my blog LiveIntentionally.org have submitted.
Ed: Thanks for having me and for doing such a great job inviting readers into the discussion.
Paul: My pleasure. Why don't you start telling me a little about yourself personally?
Ed: I've always enjoyed writing, but considered it as a side career while attending seminary. When I realized pastoral work wasn't for me, I pursued writing full time and published my first book Coffeehouse Theology.
After that I began blogging about my experiences with publishing at www.edcyz.com and then published A Path to Publishing as a way of answering all of my friends' questions about how to publish a book. I work as a full-time freelance writer these days in Connecticut while my wife attends UConn for an English Lit. PhD. END
Paul: That's awesome that you've been able to turn writing from a hobby to something that pays the bill.
Ed: I never said it pays the bills. It's a struggle for sure!
Paul: LOL! What motivated you to write A Path to Publishing?
Ed: After I published my first book tons of friends, strangers, and family members asked me, "What should I do to get published?" Well, you need to do quite a lot, so I wrote one long e-mail after another.
I turned those e-mails into publishing workshops that were very well received. So I turned my workshop into a book where I frankly map out a step-by-step guide to publishing a book with steps such as developing an idea, networking, writing a book, and marketing it.
Paul: Do you know what sort of odds new authors are up against? Do you know what percentage of book proposals by new authors get accepted?
Ed: I don't have hard and fast numbers, but there were 750,000 books published last year, both self and with publishers combined, so take into account that thousands of authors are querying agents with book proposals, and a small fraction of them are pitched to publishers, where only a small group are published. And then only 5-10% of those published sell over 1,000 copies. Around 5% actually make back their advances. So, the odds are pretty steep. The thing is, it can be done. It's just not easy. It's just about one of the most challenging careers out there.
One editor at a major publisher told me, "Avoid being an author if you can help it. It's tough out there." That doesn't mean you shouldn't do it, but that you should only do it if you can't help doing it. It has to be a passion.
Paul: With such long odds, it's really important to have guidance from someone who has been through the process. That's why I think A Path to Publishing is such an important resource.
Self-Publishing
One of the things that's radically changing the publishing industry these days is self-publishing. What are your thoughts on self-publishing? Do you recommend it?
Ed: Self-publishing is tricky. It needs to be the right kind of book by an author with a significant following of readers if it's going to sell. However, it can be a wonderful supplemental source of income and a great way to distribute ideas or a story. I'd suggest not jumping into self-publishing right away. If you think you have a great idea, shop it around until no publisher will pay you for it. Then, if you still care enough about the idea, do a lot of research into some self-publishing options.
For unpublished authors it can be tough to self-publish since they don't know all that goes into publishing a book. There is a lot that goes into publishing a good book, and so they'll want to make sure they have some guidance throughout the process.
Paul: One of the questions posted in the blog comments was… what is the upfront cost for a self publish on average?
Ed: It depends what you need. Most self-publishers like Lulu and Createspace print on demand and take a slice of the profits. With Createspace you pay an extra $40 for distribution on multiple channels. I also paid $100 for my cover design, but I had some free editorial help from qualified friends. So, I technically published my book for $140, but most first-time authors who are self-publishing will want to hire a pro editor ($300-$500 roughly) to help them develop their books (as in, not just proof-reading).
My cost is low, but Lulu and other services have packages that can run a bit more. there are some great independent self-publishers out there that I recommend in the book, but you're talking about hundreds if not thousands of dollars since they do short-run printings and have a higher per-book cost, easily double that of Amazon. And then you're out double the amount of money before Amazon sucks a bunch of profits from the sales through their site. I decided for myself that since I couldn't beat Amazon, I'd best use Createspace. It's cheap and easy to use, which is tough to beat. END
Paul: Another question asked by a reader… Do you consider self-publishing a good path towards eventually getting a contract with a publishing house?
Ed: Well, publishers are looking for authors who can either tell a great story (fiction) or attract a crowd of readers who will buy their (especially nonfiction). So, self-publishing a book is not as effective as publishing articles in some great magazines and journals or lining up some media spots or events, but if you have a great self-publishing sales history (say over 1,000 books), then you may have something to show publishers. Some best-selling books have started out as self-published, but they are the exception.
Paul: Yeah, you have some great examples of those in your book.
Marketing a Book
I was really struck by the part in your book where you said, "Writing the book is only half of the work in publishing. Marketing it makes up the other half." Can you elaborate on that?
Ed: That statement is particularly true for nonfiction and I've heard it repeated by editors, agents, and just about anyone else I know in publishing. It's kind of the open secret in publishing. Authors need to connect with readers personally, as few authors will receive the marketing support from publishers that their books require. Even if they get marketing support from a publisher, they will be quite busy. Think of it this way, if an author doesn't tell readers about his/her book, who will? Perhaps they'll have some help here and there, but in the end it generally boils down to how much they're willing to invest in talking about their books at events, in interviews, blog posts, on social media, and wherever else.
Paul: How important is it on the marketing side of things for authors to engage with people online by blogging and social networking?
Ed: It's important, but it can be overestimated. Gary Vaynerchuk's book Crush It! (affiliate link) is a great guide to this kind of marketing, and it really does work to sell books when targeted to the right niche of readers. However, authors should not overlook traditional media such as radio, TV, and newspapers. Readers still use all of these mediums often and they're quite effective. I suggest looking up Cheapskate Jeff Yeager's story. It took a TV spot to launch him out of obscurity to becoming a published author.
Paul: One interesting comment made on the blog was about the skills & strengths needed to be a good writer and a good marketer. Do you think most good writers have the aptitude to also be good marketers? Or are those skill sets not often found in the same person?
Ed: Just as good writers develop their craft over time, so too is good marketing. Different people will specialize or feel more comfortable in certain mediums, but every author can learn how to market a book in one way or another.
Authors need to remember that if they want to write and publish a book, then they also need to be prepared to talk about it. I think authors need a 30-word summary of their books in mind in order to write, but they also need this summary so they can communicate with readers. Marketing may not be pleasant for all authors, but it is a necessary skill they can learn. Perhaps renaming it would help. When phrased as "connecting with readers," marketing usually seems a bit easier to do, at least it does for me.
Paul: That's a good point about developing marketing skills over time with practice. Few people were great writers right off the bat. It took practice. And the same is true or those authors who may be new to the idea of connecting with people and marketing their own books.
More Questions from Readers
OK, well I'm going to fire off a few more questions posted in the blog comments…
How do you learn more about the business aspects of being an author – connecting with an agent, understanding book contracts?
Ed: Most authors I know rely on agents to handle the business end of things, so I'm not sure how to learn more about contracts beyond asking published authors to look at their contracts or doing some searches online. I have read some Writer's Digest articles about contracts as well.
Ed: As far as agents go, there are tons and tons of excellent agent and editor web sites that aspiring authors should read. They should follow these agents on Twitter, ask questions, make comments, and study these industry pro blogs so they don't make stupid mistakes like calling a book a "fiction novel" or querying with "To Whom It May Concern." Agents will tell you exactly what they want. It's very easy to find that information. I suggest starting with Janet Reid, Nathan Bransford, and Rachelle Gardener. Check out their blog rolls for more.
Paul: You mentioned a couple of faux pas, are there any other things to avoid in a query letter that would automatically cause no further consideration?
Ed: Query letters are SOOO important. Proposals are as well, but don't skimp on the query. Make sure you have a compelling hook for your book, that your summary tells the story in a nutshell without being too ambiguous, and doesn't violate any of the guidelines for the particular agent you're querying. Adapt it for each agent.
I'd also suggest getting folks who aren't close family friends or relatives to read it and to give feedback. if you can run it by a publishing pro who can give a solid critique. These editors and other folks have blogs and they're on Twitter. Start building those relationships today so it will be natural to ask for a quick favor when you need it. It's a ton of fun meeting other folks in publishing, so that part should be a piece of cake. END
Paul: What are your thoughts on making use of e-books for global reach?
Ed: That's a great idea, though many publishers have some sort of global distribution deal. E-books are a great option because they can be distributed anywhere. I think it's also nice to use E-books as an inexpensive and portable book option. When readers have more choices, authors certainly win.
Paul: Well, we are well over our time here. Thank you so much for taking the time to chat with me about A Path to Publishing and share your insight into writing, publishing, and marketing a book. Before we go do you have any final words of advice you'd like to give the aspiring writers out there?
Ed: Writers write. Hopefully someone will read what they write, but don't let publishing a book become your source of validation. Just write the best that you can and savor the moment when someone finds it helpful. If publishing a book is your source of validation you'll always tack on another reason why you still haven't arrived as a writer.
Ed: It never gets easier to write the next book. Many famous authors have said this over and over again, and I can confirm that. So just make sure you love it, give it all you've got, and celebrate every little success along the way. It can be incredibly rewarding work if you let it.
Thanks so much for hosting me here, for telling readers about my book, and for asking so many great questions. It's been a pleasure! END
Paul: That's great advice! If people want to connect with you where can they find you – on Twitter, your blog, etc.?
Ed: I'm at www.edcyz.com for writing advice and A Path to Publishing (with sample chapters and resources) can be found at www.pathtopublishing.com. I'm on Twitter as @EdCyzewski.
Paul: Great! Thanks again, Ed. I wish you all the best in your writing. God bless you!
Ed: Thanks Paul. I really appreciate it. Blessings.
Discussion
What did you find most impactful/insightful in my interview with Ed?
If you have additional questions or your questions from Tuesday's post didn't get answered, you're welcome to post them in a comment. Ed will try to stop by and answer some additional questions, but your best option for learning more about writing, publishing, and marketing a book is to buy a copy of A Path to Publishing and read it, and keep it handy as you go through the process with your book.