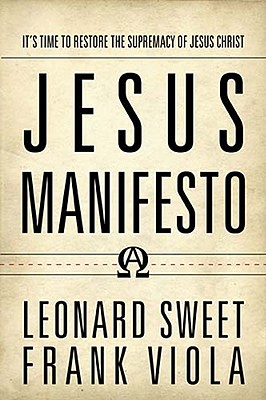 Today we're reviewing, discussing, and giving away a copy of Jesus Manifesto by Leonard Sweet and Frank Viola.  Keep reading to learn how you can win a free copy.
In Jesus Manifesto, Leonard Sweet and Frank Viola seek to do as the sub-title suggests: restore the supremacy and sovereignty of Jesus Christ.
The premise of the book is that many who call themselves Christians have allowed things of God to become more important that Jesus.  Many people pursue knowledge, accurate theological doctrine, serving, social justice, worship music, leadership, church-building, or morality in the name of Jesus rather than seeking Jesus himself.
Jesus Manifesto seeks to stir Christians to place Jesus front and center in their lives by painting a beautiful, awe-inspiring picture of Him.  If we seek Him and love Him, everything else in life will fall into place.  Not that life will be perfect or comfortable, but when we know Jesus, love Jesus, and focus on Jesus, everything else pales in comparison – success, failure, possessions, pain, even death.  All of those things seem insignificant when our focus is on the infinite awesomeness of Jesus.
Favorite Quotes
Christianity is not an ideology or a philosophy.  Neither is it a new type of morality, social ethic, or worldview.  Christianity is the "good news" that beauty, truth, and goodness are found in a person. (P xxii)
God is not so much about fixing things that have gone wrong in our lives as finding us in our brokenness and giving us Christ. (P 2)
Sadly, many of us today combat problems and erroneous teachings with laws, rules, religious duty – and the mother of all religious tools: guilt. (P 25)
When things go wrong, it's not because we don't understand certain doctrines or fail to follow particular commands.  It's because we lave lost our "first love"… or never had it in the first place. (P 39)
There is much more in Christ than we have ever imagined… He will never grow old or stale. (P 40)
To develop spiritually, then, is to learn My Son. (P 48)
If you will sink your roots deep in Christ, who is your life, you will not be able to stop the fruit from coming forth. (P 58)
The commandments are paper handcuffs compared to Jesus' love strands. (P 65)
The road to truth is surrounded by a ditch on either side. (P 79)
"Let your religion be less of a theory and more of a love affair. –G.K. Chesterton
"The riddles of God are more satisfying than the solutions of man." –G.K. Chesterton
The more you know the more you know how little you know. –Clifford Scott (P 88)
Without the Way, there is no going, without the Truth, there is no knowing, Without the Life, there is no living. –Thomas a Kempis (P 90)
May we, therefore, stop seeking "things" and instead lay hold of the "real thing" – Jesus. (P 92)
It's all too possible to serve the "god" of serving Jesus as opposed to serving Him out of an enraptured heart. (P 94)
Get a fresh glimpse of your incomparable, Lord, and you will be emboldened to stop spending your life on yourself. (P 102)
Jesus did not come to make bad people good. He came to make dead people live. (P 105)
The more you judge, the less you love. (P 112)
Too many Christians want to change the world not because they love the world but because they hate the world. (P 118)
The "Christian life" is impossible.  It's only Him-possible. (P 127)
Jesus desires friends over servants.  He desires love over servitude. (P 149)
Sorry, I know I over-did the quotes. There is just so much great wisdom in this book, I couldn't help myself.
Personal Thoughts
As Sweet and Viola write, "The road to truth is surrounded by a ditch on either side."  It would be hard to argue with the premise of this book – that many of us who call ourselves Christians have gotten caught up in pursuing the things of Christ rather than Christ himself.  We see it everywhere around us.
I see it within myself.
The only criticism I have of Jesus Manifesto, it's that the authors don't engage the reader on a personal level.  You really don't get an idea of who Len and Frank are, how Jesus has revealed himself to them along the journey of their lives, or how their lives have become an incarnation of Jesus.  That may be intentional. In fact, they may be proud of the fact that the book is all about Jesus and not about them at all.  But I like to understand where an author is coming from.  I like to see that an author is not just speaking theoretically but from experience.
Never the less, I whole-heartedly recommend Jesus Manifesto.  What could be more important than a call make the main thing the main thing?  A call to Christians to make Christianity about Christ?  I love the fact that while Sweet and Viola do talk about many of the ditches Christians fall into on either side of the path of truth, the book is not a rant, bashing misguided Christians.  Jesus Manifesto lifts up Jesus in as much beauty and glory as paper and ink can give Him, and asks, "Why would you love anyone or anything more?"
If you call yourself a Christian, this may be the most important book you ever read (other than the Bible.)
Discussion
Have you ever found yourself wanting the blessings of God – inner peace, eternal life, a happy family life, or anything else – more than Jesus himself?
Have you ever found yourself making something of God – doctrine, social justice, music, serving, or anything else – more important than Jesus himself?
Have you ever found yourself trying harder to be like Jesus – a nice person, more moral, a "better Christian" – rather than spending time with Jesus, getting to know him, falling in love with him, and allowing Him to flow through your heart, your attitude, and your actions?
Get a Free Book
If you'd like a free copy of Jesus Manifesto, all you have to do is
Retweet this post or share it on Facebook, and
Post a meaningful comment to this post that contributes to the conversation (include your Facebook or Twitter usename in your comment so I can connect your comment to your share/tweet).
One person will be randomly selected the afternoon of Wednesday 6/2 to receive a free copy.
Jesus Manifesto will be on special discount from Amazon.com, TODAY June 1st, the date of the release. You can learn more by going to theJesusManifesto.com. Endorsements by Matt Chandler, Ed Young, Jack Hayford, Shane Claiborne, Ed Stetzer, Reggie McNeal, Mark Batterson, Margaret Feinberg, Alan Hirsch, Anne Jackson, Tommy Barnett, and others.