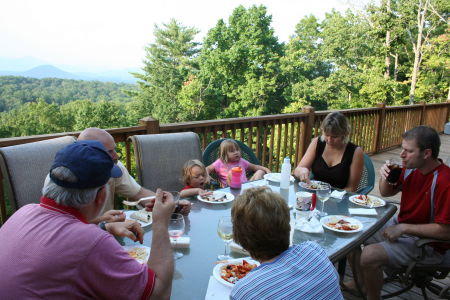 I spent last week with my extended family in Helen, GA – my two brothers, their families, and my parents.  If you're counting along at home, that's 8 adults and 7 children under the age of 10 all sharing one house for a week.
There was really nothing normal about the week.
We were in a different state with different climate. We stayed up late and got up late. We ate different foods at odd times.  We shared bathrooms.  Our kids shared bedrooms.
And no one tried to kill each other.  Crazy, I know.
(It also gave me lots of material to blog about, so stay tuned.)
Whenever you take a trip of this magnitude you're bound to forget something, and we forgot the worst of all possible things. The one thing that absent would make our entire trip miserable…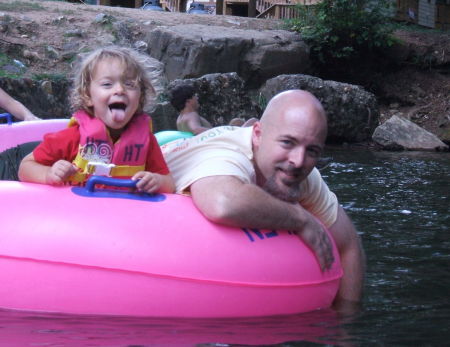 Aryn's "passie."  That's toddler for pacifier.
Aryn is now 2 ½.  We cut her older sister and brother off on their second birthday.  But for reasons I won't go into here, we decided not to tackle that issue with Aryn at that time.
In retrospect, I'm not sure that was the best idea. You see she started out going to bed with one passie.  Then a few months ago she started grabbing a second passie to hold in her hand.  Then in the last few weeks she was demanding a 3rd passie. It was getting out of control! We were starting to consider paciholics anonymous.
So, you can imagine the horror when we arrived at our rental house, got the kids ready for bed and realized… we had forgotten to pack any pacifiers.
The interesting thing about it, though, is that Aryn only asked for her passie once that night, and then not again the rest of the week.  The oddity of sleeping in a sleeping bag on the floor in a strange room of a strange house helped her break her passie addiction. I'm happy to say she's been passie free for 12 days now.
I found that breaking routine doesn't only work for 2 year olds. I've gotten into the habit of drinking coffee throughout the day while working. But with all the stuff we did during the trip, being in and out of the house, I only ended up drinking a half cup of coffee a day. And I didn't even miss it.
If you want to break a bad habit, it helps to put yourself in a different setting and keep yourself off balance with different activities.
On the downside, however, I also neglected a lot of my good habits.  During our 9-day trip I didn't exercise at all, I didn't read the Bible, I forgot to take my multi-vitamin, and I didn't journal or blog.
The trick is to keep the bad habits broken, while re-establishing the good habits.
How about you? Have you broken a bad habit by getting out of a familiar setting and routine? Do you have a bad habit you're trying to break?  Are you changing your setting/routine to help do that?