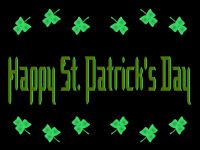 (An updated version of this post was posted in 2010)
Happy St. Patrick's Day everyone!
For most people St. Patrick's Day if celebrated at all is simply the next holiday to decorate for after Valentine's Day, or an excuse to break out the green clothing and drink some green beer.  All in good fun I suppose.
I've had a few green beers myself over the years.  Since I went to college at Valparaiso (Indiana), I had the opportunity to go to a couple St. Patrick's Day parades in Chicago where they dye the Chicago River green. 
But do you know who the real Saint Patrick was?
If not, here's your chance to learn something new today.  Take a few minutes to read about him.  He was a pretty interesting guy and an important person in Irish history.  And at the very least give you a good conversation starter when you're admiring co-workers' St. Patrick's Day buttons.