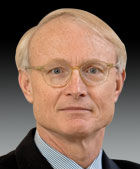 Michael E. Porter is one of the world's foremost authorities on competitive strategy and an expert at relating his academic research to the areas of leader development and management theory.
Michael E. Porter is the Bishop William Lawrence University Professor at Harvard Business School. He is the author of 17 books and the creator and chair of The New CEO Workshop, a program for newly appointed CEOs of billion-dollar corporations. Porter's foundational ideas on competitive strategy and leadership are taught at virtually every business school in the world. He frequently works with global issues and recently devoted considerable attention to understanding and addressing the problems in health care evident in the U.S. and abroad.
Notes from Michael Porter's talk continue below.
How do you do well at doing good?  How do you serve your communities effectively?
It's not hard to volunteer or give money, but it's hard to do it effectively.
We don't get the result we want if we're really serious about measuring results
We tend to get involved in a lot of things that are very reactive and don't achieve the focus or clarity to truly get good results.
Don't think about what you're doing as charity but as delivering a service to a customer
How do you add value to that customer?
Often charity is more about the congregation than the people we're trying to help.
It's not about what you do or how much you do, but are people really better off because of what you're doing
At best we're ineffective, but at worst we cause harm.
1) Have we really defined what our goal is?
Goals may seem obvious but their not.
Goal for a homeless shelter?  House for a night?  House long term?  Help people not to be homeless?  The goal will change what you do.
Goal for business is profit, but the goal for charity can be whatever you want it to be
Create value for your "customers."  Value being social impact per dollar spent (and time spent)
Could be better to simply give money to an org that is accomplishing the goal well rather than start something new to try to accomplish the same goal
We're going to measure what we do
2) What set of community needs should we try to serve?
It's better to do fewer things effectively than lots of ineffective things
Worthiness of the cause is not the basis of the decision for what you should do
Decision should be based on where you can produce the best value
Questions we should be asking:

What are the most pressing needs of the congregation? (or surrounding community)
What other organizations are available to meet those needs?  If you can find another org that can meet those needs, then the best option is to support them rather than reinvent the wheel.
What particular capabilities and resources do we have?  Skill sets, talents, access, connections, resources.
Where can we do more than just giving money?
Where can we do more than just giving unskilled labor?

Look to partner with effective organizations
3) What's the strategy to meet the goals?
People confuse strategy with goals.  Goals are the "what," strategy is the "how"
Goals are often specific and clear enough
Have a solution model that makes sense
Social services is about quality of life not reducing poverty.  Different strategies are required to reduce poverty
Example of HIV/AIDS drugs.  Issue is not just getting drugs to people but making sure people take them.  (personal note – and helping to reduce the spread of the disease)  It's actually cost effecive to have a health worker go to people's houses and make sure they take the drugs
4) How do we create alignment? (not addressed due to time)
Things that get in the way of effective community service
Lack of goal clarity
Limited attention to costs
(missed)
(missed)
Inability to stop anything
Slides available on the Leadership Summit site:
http://www.isc.hbs.edu/pdf/20070810_MEP_WillowCreekAssociation.pdf
Anybody catch the things I missed?  What stood out to you from Michael Porters talk?  What are you going to do differently?