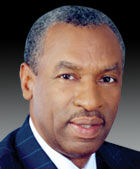 The Rev. Dr. Floyd H. Flake is the senior pastor of the Greater Allen A.M.E. Cathedral of New York in Queens and the president of Wilberforce University in Ohio. Under his leadership, Allen Cathedral has grown into a 23,000-member church with senior citizen centers, private school, and hundreds of housing units for members and community residents. Along with its affiliates, Allen Cathedral is the second-largest African-American employer in New York City. Flake served as U.S. congressman from 1986 to 1997 and is the author of The Way of the Bootstrapper: Nine Action Steps for Achieving Your Dreams.
The notes from his talk continue below.
It doesn't matter what field we're in, there's always some need for transformation to find our best self.
Leadership is about moving people beyond their self-serving motives.
When people see that you are selfless they follow you because they realized that it benefits everyone
5 Models of Leadership
1) Transitional leadership – example: John the Baptist.  Had a role, knew that it was temporary.
Focused on an identified need(s)
We have a responsibility to find out what the needs of the community are
His church decided to build a school.  Faced resistance because the church was not "in the education business"
Avoiding pitfalls

Perspective can be compromised
Failure to focus on core purpose
Goals and objectives that are not clear
Traditions
2) Transactional Leadership
Reasons for this model

Group buy-in and agreement
Delegate responsibility
Build support
Identify leaders process plans

Avoid pitfalls

Passive leadership, people who lead in title only
Slows down the process
Time consuming
Selfish motives
3) Transparency in Leadership
If we're going to be great leaders, we're going to have to be moral
We must create a means for information to flow from the leader to the people and vise versa
Make sure your financial house is in order.  Regular financial reports to the congregation.
Select worthy partners (hire a CPA)
Trust God enough to have integrity
4) Transcendent Leadership (skipped due to time)
5) Transformational Leadership
Aggressive leadership
Transformational leadership always produces resistance.  Don't fear it.
Always focused on the goal.
Many institutions fail because they do not plan past the current leadership
Be the best leader you can be so the leaders after you can be even greater
What did God impress on you during this session?